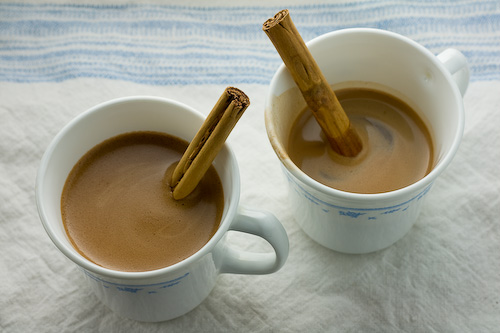 Cinnamon Stick Recipes – Hot chocolate recipe calls for milk sweetened with cinnamon-infused caramel. A mug of spiced hot chocolate in the dead of winter sounds tough to resist, doesn't it? I usually skip drinks unless there's caffeine or booze involved, but this definitely counts as an exception.
Which is not to say that this hot chocolate drink can't be spiked with alcohol.I recommend a splash of rum or orange liqueur , so I think I'll pass on the eggnog and go for something like this instead.
Ingredients:
2 1/4 cups whole milk (540 ml)
1/4 cup water (60 ml)
1/3 cup granulated sugar (67 grams)
1 cinnamon stick
4 ounces bittersweet chocolate, melted (113 grams)
Instructions:
Heat the milk and water just to a boil in a saucepan. Turn off the heat.
In a separate saucepan, heat the sugar with the cinnamon over medium heat. Leave the sugar undisturbed until it begins to caramelize and take on color around the edges. Gently swirl the syrup around the pan at this point until the sugar is completely melted. Continue heating the caramel until dark amber.
Watch out for sputtering hot syrup and steam in the following step. Pour the milk over the caramel and cinnamon (the milk might foam up as it boils). Stir until the caramel is completely dissolved.
Remove from the heat and whisk in the melted chocolate. Discard the cinnamon stick.
Using an immersion or regular blender, whip the hot chocolate for about 1 minute.
Serve immediately or store in an airtight container and refrigerate. Caramel cinnamon hot chocolate can be made up to 2 days ahead.
Buy Real Cinnamon Sticks online - straight from Ceylon.
Subscribe For Our Newsletter